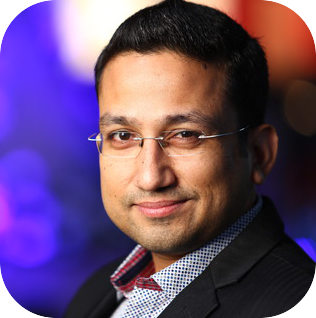 Dinesh Agarwal is the founder of Pro Start Me. In the year 2011 he was helping a friend with a startup and realized the larger problem that entrepreneurs with great ideas faced. The technical talent needed to execute an idea was either not good or too expensive. Long term interests were always missing in contract based work and hence trust was an issue. Dinesh decided to solve this problem.
The day he graduated with his Ph.D. in Computer Science, he moved back to India right away to start Pro Start Me. His goal was to help bootstrapped entrepreneurs with great ideas realize those ideas into successful products. He gathered a team of brilliantly talented designers and developers to build great products. So far, Pro Start Me has created over 15 products.
Our mission
Pro Start Me is a conglomeration of talented people who are motivated to pursue great ideas. We work with the best minds in the country and continue to nurture them to be able to achieve their best.

Our vision is to apply a perfect mix of traditional and emerging technologies to create game changing products that make this world a better place to live. 
We help entrepreneurs realize their big ideas that help governments, simplify business processes, embrace technologies to improve lifestyle, or inspire social improvement.
We seek great ideas, help structure them into well-defined products and finally engineer them into scalable end products that meet the expectations of the stakeholders.
Our Values
Be it designing, programming or architectural aspects of the Startup-as-a-service package, we always work with those who excel at these skills. We respect each other's competence and thus we always work synergistically.
The idea that wins any argument is the idea with merit, regardless of the hierarchy of the individual. Respectful disagreeing is not only accepted but encouraged. We value this culture and we ensure this culture shows in our processes.
Pro Start Me distinguishes itself from freelancers by having the entire team, that works on a project, working out of the same office. We are good listeners but we speak up if we have suggestions to improve the product. We have a zero tolerance policy for lack of communication. We strive to improve our communication among team members as well as with our clients.
Pro Start Me does not follow the traditional business models, hence it is utmost important for us to make sure our processes reflect that. All our team members behave like athletes with the spirit of "If I don't do it, no one will".
Our Objectives
To achieve a retention rate of over 95% consistently. We measure the retention rate based on what percent of the final product was developed at Pro Start Me after we started working on the idea. Additionally, our first-time partners should offer to work with us for their subsequent products.
To work on at least one product, at any given time, that has interests aligned with a social cause, either directly or indirectly. We will work to make this partnership financially profitable if we can, or working at a loss if we must, but working for a cause at any time.
To invariably achieve over 4.5 on a scale of 5 in employee satisfaction.
What We Do
Ideation Cell
At the core of all successful businesses is an idea. We want to make sure we are not just another product in the market, but the best of all available till date. We don't leave any stone unturned to decide on what features should be there. At this point, we believe to have completed one third of the project.
Minimum Viable Product
Once the idea is well defined and feasibility analysis is done during ideation phase, we start building and converting the idea into a real product. We again discuss on the most essential features that the product should be shipped with and crete the minimum viable product (MVP). Our MVPs are not rushed out products shipped in the market to test user interest. On the contrary, they are kickass products with great looks, feel and unmatched user friendliness.
Scaling the MVP
At this stage, we continue the think-build-ship-iterate process and try to ship as many features as customers might need at a fast pace. We add more people to the team and we look for Six Sigma tools and strategies to make sure we can get on the predictable patterns of scale while we are growing. This ensures that our business processes are as efficient as they can be and our customers enjoy the superior service (if applicable) and products on a continued basis. This phase ends with team transition where we move the entire team to its own office.