Update: I have wrote a new post on how to come up with good, winning hackathon ideas. Check that out.
Weekend of 7th-9th March 2014, I attended a hackathon called Prarambh (Hindi for "The Beginning") at one of the most prestigious institutes named Indian Institute of Management, Udaipur or IIMU for short.
Let me start by acknowledging my mentor and good friend Gaurav Mantri for inviting me to the event. The event was perfectly managed as every participant I talked to enjoyed the experience. Kudos to the entire team of IIMU's entrepreneurial cell (e-cell) who were behind it. I personally stayed at the campus and got to play Badminton at 3 AM the first night while I was there and Poker at 2 AM the next night; it was like living the college life again.
Event Structure
The main event started with pitches. While there were only a few people who signed up as pitchers, the energy there motivated many on the spot ideas. Eventually there were a lot of ideas that were pitched.
Every person could vote for 3 different ideas, self recommendation was acceptable. Top 6 ideas, based on the number of votes, would eventually move to the next round where they form a team.
Teams then went to work and started building their ideas. While teams were brainstorming and coding, mentors would come and talk to the teams to give them valuable advice on what needs to be prioritized. In some cases, mentors even shot down some ideas and asked entrepreneurs to change their ideas. Impressively, one team went through a lot of idea changes and still managed to produce a decent working product.
Finally, the night of presentation comes. You have 10 minutes to present your idea to the judges, of which 6 are for your pitch/deck presentation and rest are for Q&A. Even though only two teams took home a trophy and some promises from Microsoft and other startup accelerators, everyone was a winner.
Judges and Mentors
These were people from all walks of entrepreneurial world including experienced entrepreneurs, VCs, angels, and accelerators. Here is a brief list in the alphabetical order on first name.
Anuj Pulstya – Mentor. Anuj is an entrepreneur and angel investor. Here is his Linkedin if you want to stalk him.
Chintan Bakshi – Mentor. Chintan is COO at Startup Oasis. Here is his Linkedin profile.
Gaurav Mantri – Mentor. You must have noticed his name in the beginning of this post. I did not know before the event that he was a mentor there, but I was not surprised. He would make a good angel investor for startups. Gaurav is a serial entrepreneur who sold his last company Cerebrata and moved on to a new product. Here is his Linkedin profile.
Gaurav Sharma – Mentor. Gaurav is a tech entrepreneur and if I may he has had encounter with cops for hacking into girls' profiles on a service by Google. Gaurav is a down-to-earth person. I asked him for some advice and he took interest in my product and gave me real advice that I was able to implement right away. Here is his Linkedin profile.
Manuj Goyal – Judge. Manuj is the MD of Pinkcity group of companies, a group that deals in Gems and jewelry. He also co-founded Rajasthan angels network to help startups. Here is his Linkedin profile.
Mukund Mohan – Mentor. Mukund is with Microsoft accelerator. He generously invited all winning teams to Microsoft accelerator as well as offered free hosting from Microsoft to both winning teams. @Mukund we haven't yet heard on how to proceed with any of those offers, could you please hit send on that email in your Office 365 app? Here is his Linkedin.
Nilesh Trivedi – Mentor. Nilesh is a person of multi talents. He played Guitar for all of us, no wonder he is member of a band. We enjoyed his band's songs during the dinner party on the final day. Check out his Twitter.
Pranay Gupta – Mentor. Pranay was the first person to break the ice and thus the first mentor (besides Gaurav) I spoke to before the event began officially. It was fun talking to you Pranay. Pranay also offered Amazon AWS hosting for winning teams. Pranay is an early stage startup expert. He works with 91springboard. If you are a startup around Delhi, India you should go visit them some time.
Rajneesh Bhandari – Judge. Rajneesh is a partner at TIE Rajasthan. I could not find him on LinkedIn but I could find his profile on TIE's website.
Shailesh Vikram Singh – Judge. Shailesh is a VC and private equity professional. Here is a link to his LinkedIn profile.
I know I missed a few, please feel free to comment below to remind me of their names.
My Idea – Buzz Captor
The idea that I pitched was Buzz Captor, which solves a big problem faced by PR people. Buzz Captor allows you to search for any keyword and returns articles, pictures, links, videos etc. that are doing/did well on social platforms. It ranks them based on their popularity across multiple social platforms including Linkedin, Facebook, Twitter and Google Plus. It also tells you who are the influencers that made those things go viral and tells you how to influence those influencers. In short Buzz Captor helps you discover most shared links and key influencers.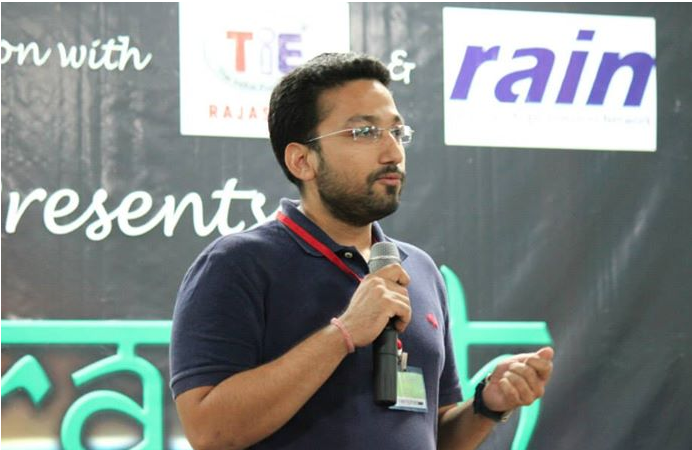 I was lucky to form a team of 7 people including 5 programmers and 1 marketing champion. During the final presentation, Mukund commented that the talent distribution was skewed as one team got a lot of resources while others were not able to get enough. But as Rajneesh (or Shailesh?) correctly said, a startup needs to know how to recruit right people. I think we will give ourselves some credit for it. I believe it is one of my strengths as an entrepreneur that I hire only the best.
We created 7 small sized tasks (programming and non-programming) that were needed to be done to produce a minimum viable product. In our team, there were 3 guys who were coders but touched PHP for the first time. Nevertheless, we nicely divided those things and within next few hours we had all of the functionality well understood. We all were on the same page on why we needed it, what was expected from us, and how to go ahead and implement it. We spent a lot of time brainstorming as if nobody understood the big picture, the independent modules won't be easy to build.
We did not work late that night. We left the venue early as I thought it was not that hard to implement it the next day. The 4 games of Badminton at 3 AM that night forced me to skip breakfast. I was still a few minutes late, which I hate to the core. Anyhow, we started working on the product and finished all of our modules by early evening. Only thing left was integrating everything to produce the final product. I must mention that we used Bitbucket as our git repository to keep our code accessible to every team member.
We did not stay late that night either. We were complacent as we still had good 6 hours to work the next day. We would pay dearly for this complacency as you will. The morning came and we started integrating. Integration was harder than we thought and the bugs kept..umm..bugging us. We were barely able to finish the code. Integration was done by just two of us while 3 of us worked on the presentation and the rest 2 added more features to what we had already done.
Final Presentation
Time came for the final presentation. We were the first to present; while I wanted my team to present as they prepared the deck, I ended up being the victim. I think I did an OK job as I got my first customer, who even paid me on the spot, right after the presentation to build a product with a twist in Buzz Captor's idea. Good job team. The picture that they took while I was pitching also came well and is my Twitter profile pic these days.
We got grilled with questions, but we handled them well. I believe we established the need pretty well and explained how we were going to create a business out of the idea. We did not talk about our competitors, which the judges noticed. After 3 presentations judges had to ask teams to talk about competitors and they gave few more suggestions. Dang it, do I hate going first for missing these advices?
There were a lot of other good ideas. In fact most of the ideas were good. After my experience with Bookup, I am scared of marketplaces and hence I personally do not like such ideas. However, one idea intrigued me. It was about renting murals for your business on a monthly basis so that you can keep changing your paintings on monthly basis without breaking your bank.
Here is a complete list of final 6 ideas along with their descriptions curated by Mukund.
There was another Idea called Wedway, that allows wedding planners to keep the guests updated on the happenings of a big fat Indian wedding. The idea stemmed from a need that the founder saw recently and thus pursued this idea down to its implementation.
Results – Buzz Captor Placed Second
After hearing the pitches, I was not sure if we had any chance at all. Few of the ideas, that even got brutally turned down by the judges had one or the other thing that was so much better than us. But our efforts did work out well. We ended up winning the second spot. We got a nice looking silver trophy as well.
Here is a picture of Buzz Captor team accepting trophy. The guy in shorts and orange t-shirt is yours truly.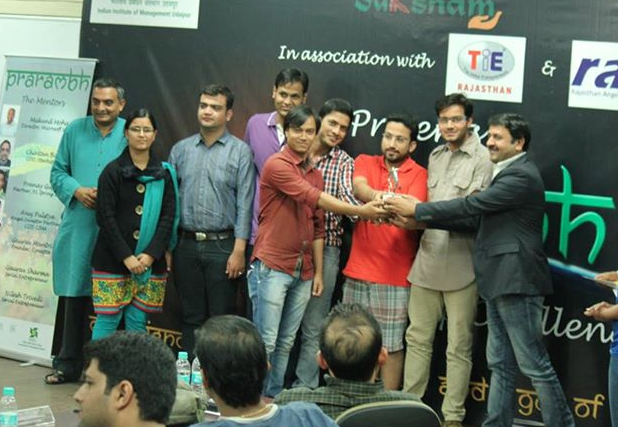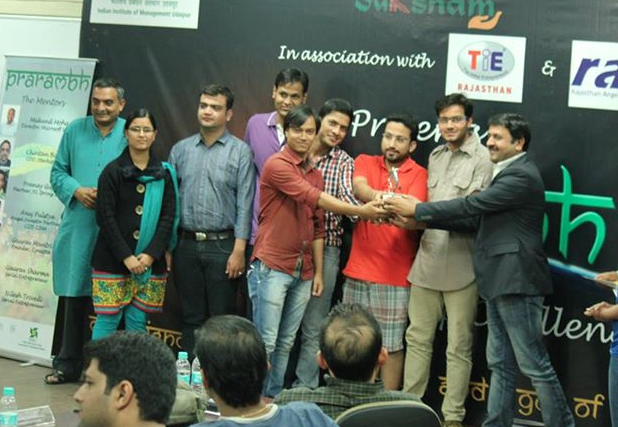 My team generously offered me to keep the trophy we got from there. It sits right behind my desk at my office. We continue to work on the product and hope to create a product everybody loves soon. It is live and functional though as we speak.
Learning from Creating a Winning Product in 32 Hours
I learnt a lot of things while I was there. Here is a bulleted summary of what I learnt :
If you break down a large task into smaller ones it is easier to build it in parallel.
If you are complacent before the game is over, your game is already over. Stay humble and carry on.
People have a different way of expressing themselves. Learn from what they say. Never take offense.
Ideas are dime a dozen (reinforced as I always believed in it). It is all about execution.
Influencers matter. Connect with people. Your network is your best asset.
Testimonial for IIMU Saksham Team
I promised Kunal Gulati, a member of the IIMU e-cell, that I will record my experience for them and email it. Let me put it hear for the world to see it.
"It was my first hackathon in India, that too at a business school. I did not know what to expect, I went there with a curious mind. The event was meticulously planned on all aspects. The mentors were great, the resources were available beyond the regular timings of the office and the team was on call 24X7. Hospitality was unparalleled and professionalism was at its best. While it was a competition, everybody felt like a winner. I would ascribe the success of this event to the Saksham team. I will go to their next event in whatever capacity I can."
I have written another post from our experience at a Hackathon where I talk about how to come up with Good, Winning Hackathon Ideas.